And thats a good thing… I have heard people saying that Karma is a bitch… well if so … I would like to marry her…. You will get the picture later on in this text…
After I had left Ural Hamburg it was plain sailing for a while.. I´m cheating on this trip .. I got my phone on the handlebars and Google maps are giving med excellent directions so I stay on the smaller roads and i cruise at a relaxing pace…
But… at a redlight in a small German village… Well my clutchcable decided it was time to retire…. Luckily there was plenty of room for me to park Vlad att the side of the road and then start digging trough all the stuff I have brought with for this trip…
After a while I found what I was looking for and pretty soon ,,, well to be honest it took me a good hour to get it sorted .. But never the less… I was on the road again….
But since my planning for this trip is a lot like Donald Trumps humour… ( non existing) I wasnt sure where I should stop for the night… So drove in to a lay by and tried to find a campsite that might be open and let me rent a spot for my tent… As I was tapping on my phone i heard a noice from the sky…
It was Thor… … A Thunderstorm… quick look on a weather radar… Yep.. Thor is coming my way…. Back on the bike… Managed to stay ahead of the weather… Saw a Hotel/Gasthaus… Zimmer 38 euro a sign said… Great… not to expensive so I parked and walked inside… The lady behind the counter didnt speak English … But she understood that I wanted a room for the night…
Well, she called for another lady,, who alledgedly was familiar with earlier mentioned language… Waiting for Helga or Gretchen or whatever her name was she started the paper work…. And then she arrived… Tze Hauptkommenderende ChefzMädchen…. And she gave me brief look… Then she looked att me again… from my boots to my face and then she looked at som spot that appaerd to be above and behind me….
And the she said… NEIN… No rooms left……..
The other lady just shook her shoulders and looked surprised… So back on the bike… Still now rain but I can now see lightningbolts in my mirrors… and its now dark and my chanses of finding a campsite are just as plausible as Trumps attempt to buy Greenland….
But just as the rain starts.. A GastHaous… Gasthaus Block… Und tze story was to begin whit the same… No English… another Lady arrives very quick.. She smiled… And off course we got a room for you… You ride a bike? Yes.. Follow me… You can park indoors so that your bike and all your stuff dont have to stand on the main parking lot…..
So I got my room and then I went down and had a chat with Bianca and Olga… It turned out that Olga was from Russia.. Hence no English… But kein problem.. Bianca was translating and while she was preparing the kitchen for the night or maybe the next day she was running in between and helping me and Olga with our comunications…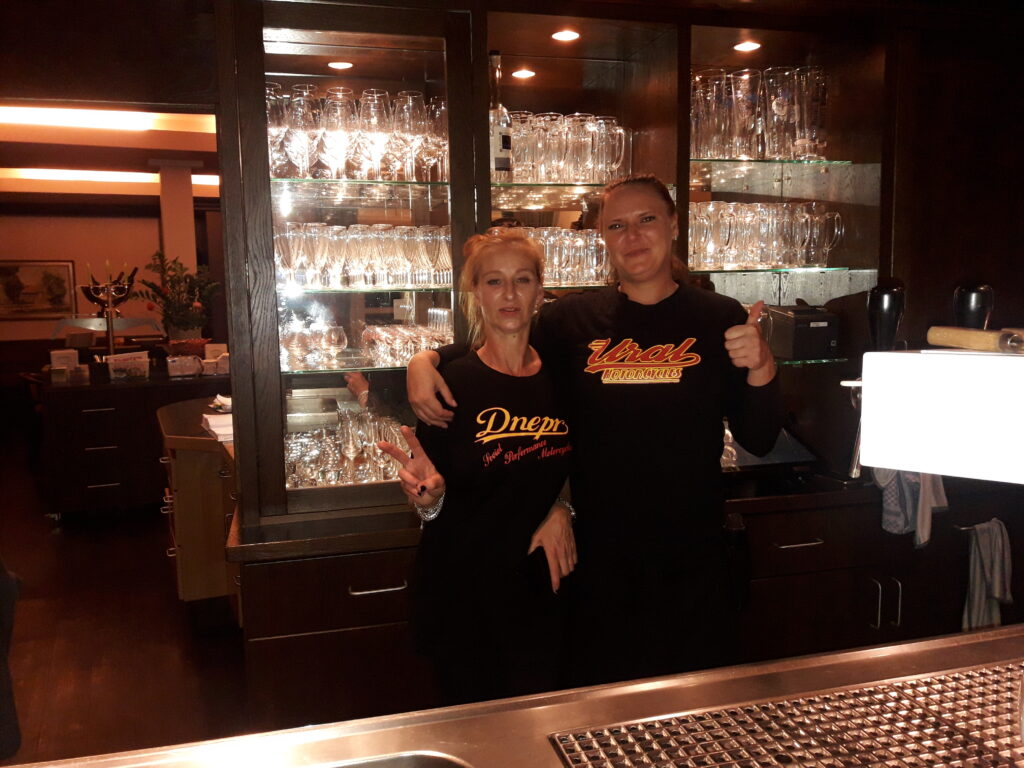 And since these two lovely ladies said that my designs where to their liking I was proud and happy to give them two of my T-shirts….
So if anyone is looking for a biker friendly Gasthaus…. Gasthaus Block Hotel is the place….In Harkebrugge…!!!
This post ends my adventures in Germany…. And now I got to get to bed… Will be back here tomorrow and tell you about Holland… and belive me… Karma is alive and kicking…
Fair winds Stefan