Six days on the road and I gonna make it home tonight… As some of you might understand I´m back in to theme of Country Music…
Well… I wont make it home tonight.. and thats not my plan…
Back to the story of my trip… Left The Gashaus Block after I had a nice cup of coffee and a chat with the nice Lady that was in charge of the reception.. Set course for Holland… crossed the border without really noticing that I really just did that….
Saw a little fastfood joint and parked outside and went in to get something to eat.. A lot could be said about Holland, or the Netherlands if you prefer that… Its clean, flat and full of nice people.. To be honest it so clean and crispy so I do might understand why they have a liberal approach to the "Wacky Backy" Thats a product from the hemp plant if you wonder…
In a country so nice and clean that you would not be surprised if you suddenly would see Ken and Barbie waving at you from their immaculate garden… Well if you live their then you might need a whiff off that strange stuff they smoke in the coffee shops to stay close to be sane??
And no I´m being sarcastic,, The Dutch are friendly, organized and its amazing to drive trough the countryside… no litter, no graffiti.. just a nice country with nice people..
But back to the food…. and the Dutch… The Dutch got balls. and their balls are big…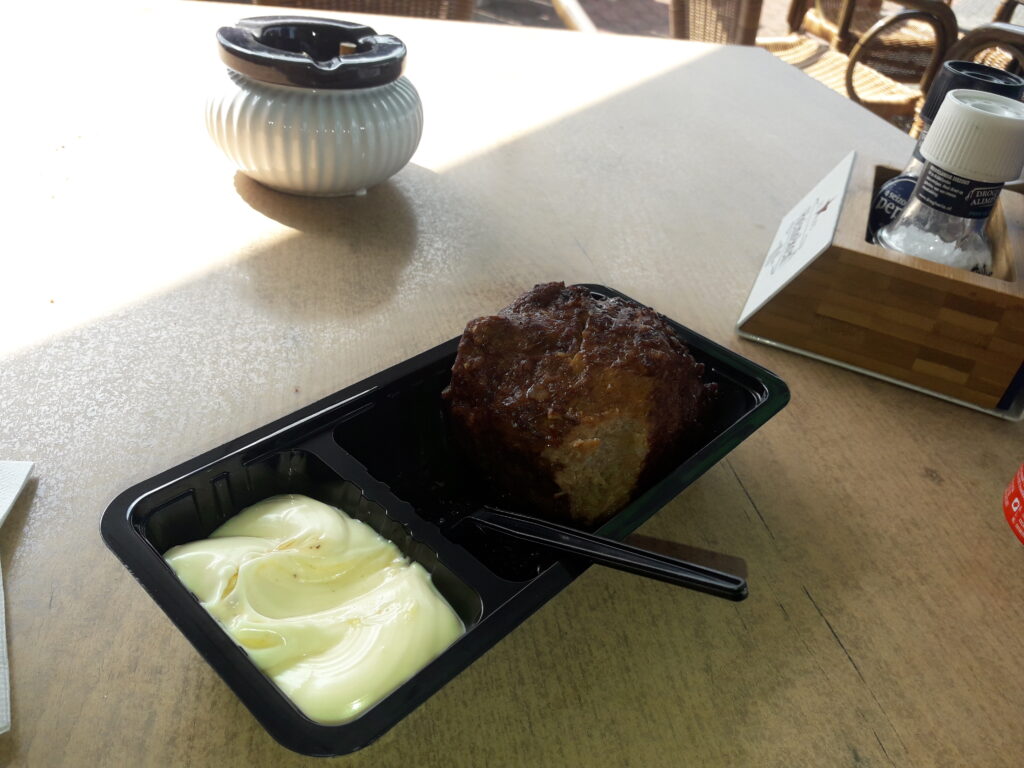 Thats a Dutch meatball… Gehaktball… Taste great and its enough food for me to be able to drive for the rest of the day…
Now back to Vlad and his performance/behaviour… While still in Germany I suddenly realized that ther was som oil on my left boot… pulled in to a lay by and it looked like my left valve cover was leaking a little… Not a problem.. I had spare gaskets…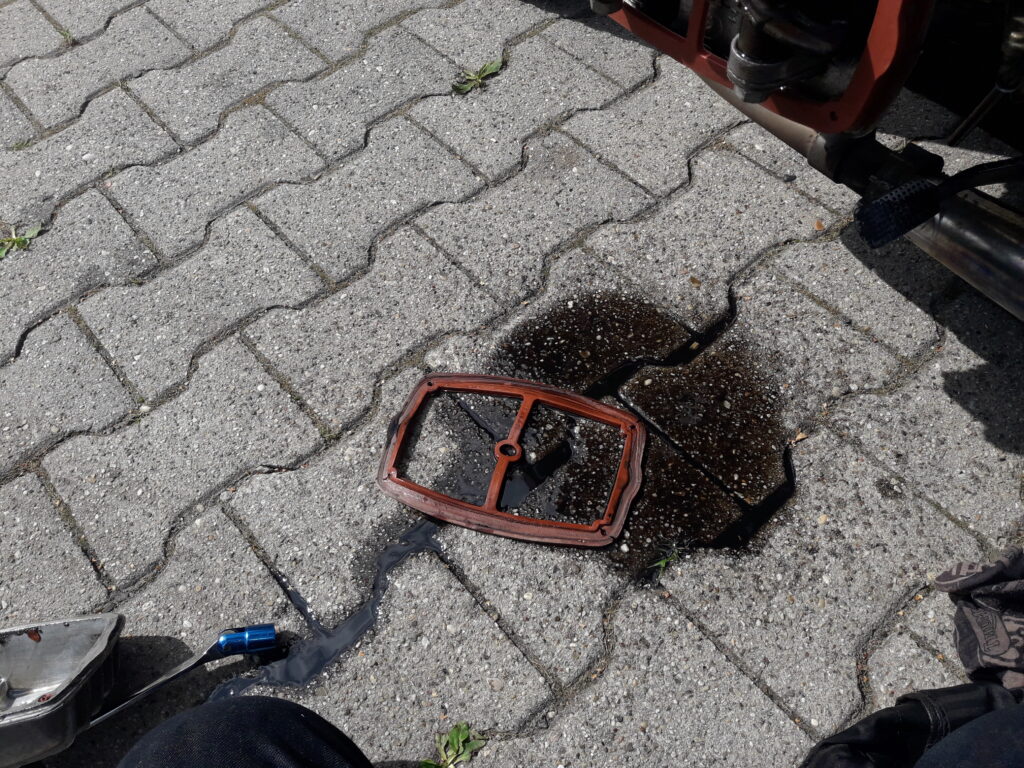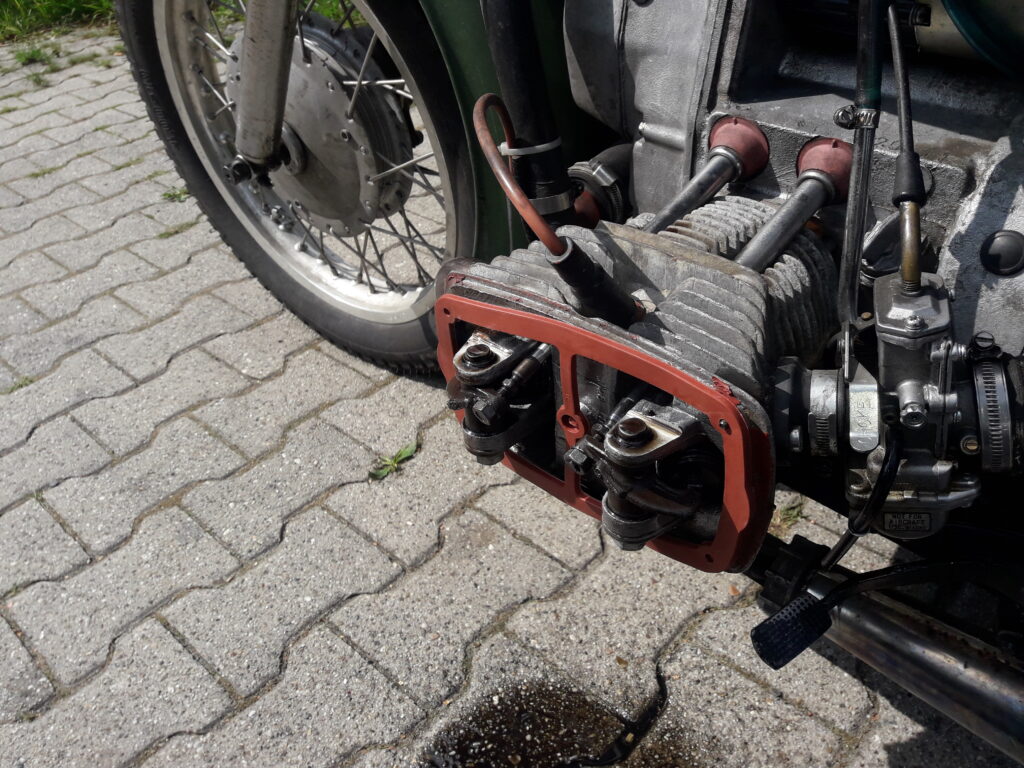 Then we rode on… when filling up in Holland later on i saw that my left boot now was well and truly waterproof… A visual inspection made me think that I might had a faulty head gasket…. And head gaskets was something I didnt have with me…
So I sat down at gave it all a thought.. The engine was running fine… no strange noice and the power was still there… But when a gave the cylinder another glance I was convinced that it must be something going on with the head gasket..
So what to do?… Should I just top the engine with oil and carry on.. Then try get a new gasket in England?? But then I remembered my old friend Google… And what do you know? Ten kilometers away was a shop called RB Motorhandel… Dealing with Ural and Dnepr and the spares you need to get our trusty old Soviets up and running….
So I called the company… Richard answered… And sure he had the gaskets… He said he would be at work until 17.00,, Well I could just make to the location given to me by Google…
At 16.45 I was in a residential area.. No sign of any shop… but a slightly surprised neigbouhr understood that I was searching for Richard and RB Motorhandel… He called the man … he then typed the right adress in my phone and of I went…
I wound RB Motorhandel.. but the door was locked… what to do..?? Another call to Richard… And then I got the picture… He was at his daytime job and he will met at the shop after he finished att five o clock… What a relief…!!
So I sat down in the lovely sunshine and spent about ten minutes wiping oil from left boot..
Richard then arrives… Just a second he says… He rolled out two sidecar rigs and then waved me and Vlad inside.. And to my surprise he said.. Well then we start the job.. I was just expecting to be able to buy to gaskets and then do work on the roadside… Nope… Richard got his tools out and soon a new gasket and a pushrod was in place.. ( the pushrods was obtained in germany since I have realized that one was slightly bent)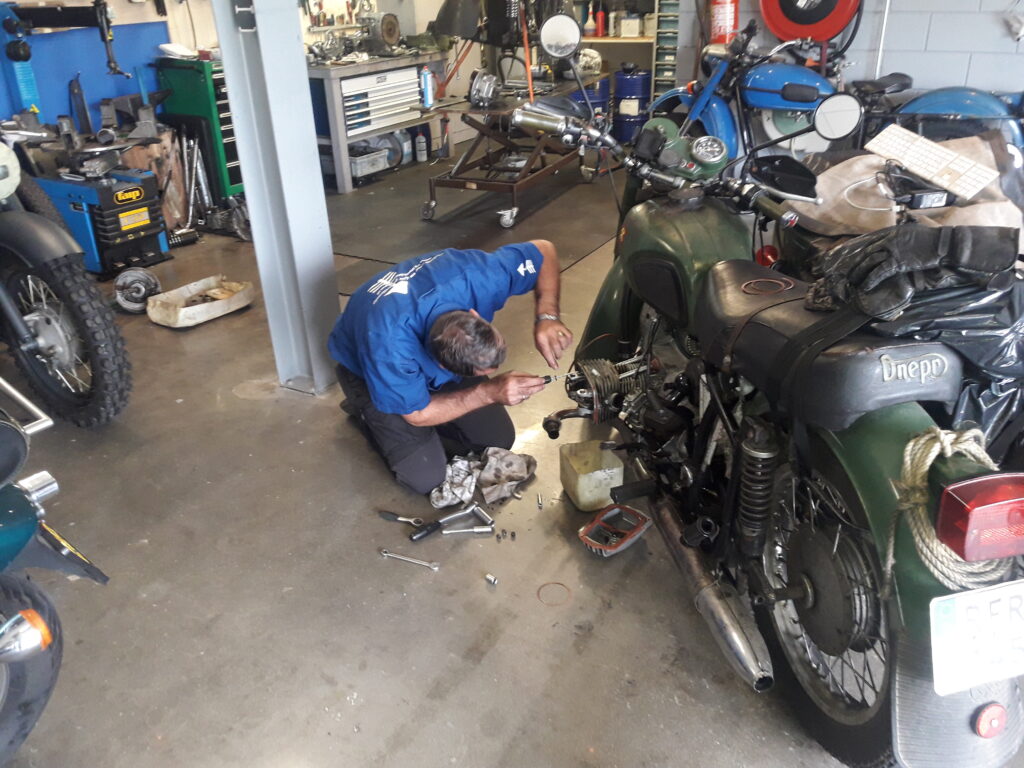 Had a nice chat with this friendly man.. told him that I had designed a couple of T-shirts that I now was trying to get on to the market.. Well he liked them and I had one in his size .. For me this was a golden opportunity to market my products.. so i dug out a couple more and said here is my card and if you want more just send me a mail and will have them shipped…
We talked for a while and showed all of his shop… A very nice place that I´m looking forward to visit soon again… And then.. My question was.. How much do I owe you????? The reply.. for that??? nah thats on the house… and then you should remember… He supplied the parts.. gave me two spare ones and did all the work….
I got a new friend… spares and a opportunity to sell my shirts… !!! So once again.. Kharma… I love you…. =)
And before I end this post… yes I´m a little overwight ( but dont you call it a beer belly…Its an ecologic airbag!!!) and the logbook is one or two days behind… thats due to the fact that I do believe that I need that distance to produce nice enough posts…
So please stay tuned.. I got more to tell you…
Until then…
Fair Winds
Stefan