Its now the 28 of August.. The sun is shining and I decided to move on.. A bit reluctant to leave The Prince of wales , The friendliest Pub in the Uk , but there is more to see in sunny old England..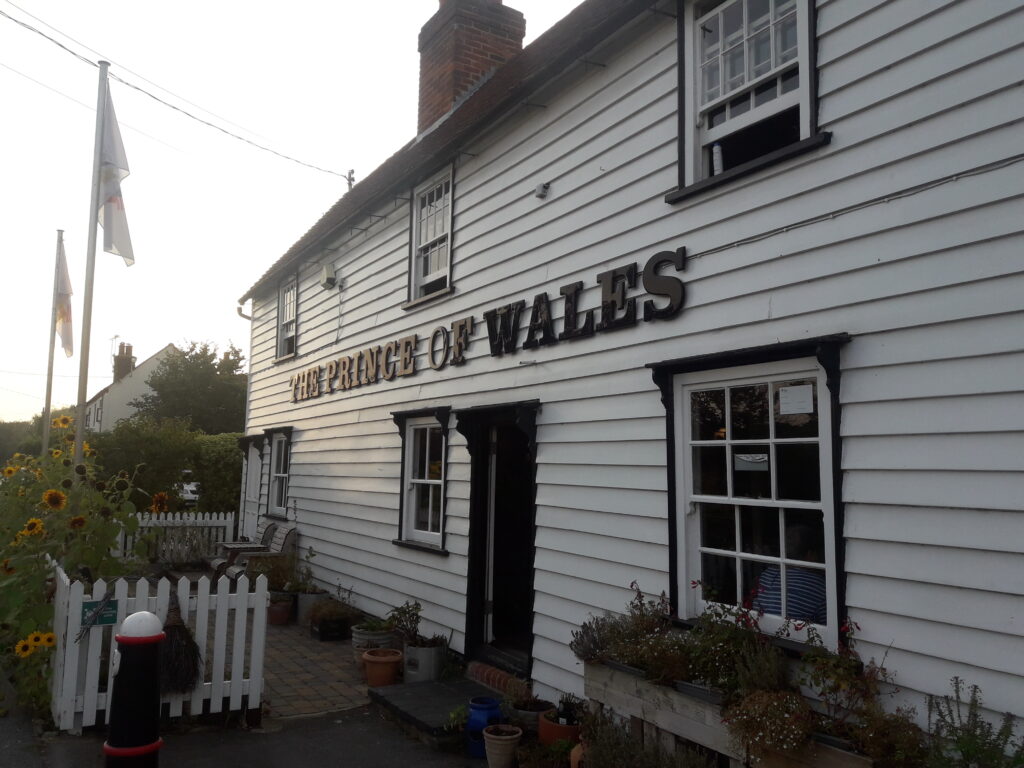 So packed my gear and started Vlad, now the course was set towards F2 MotorCycles, a company who sells parts for all old bikes from the Soviet Union.. And since I have heard a lot of good things about David Angel and his shop it was an easy choice to do so…
On this entire trip I have used my phone mounted on my handlebars, And yes I know… I have always said that I´m and old fart that likes to get lost the analog way … But I have to admit… Using Google Maps made this trip a lot easier…
So my Samsung and Google took me and Vlad over the lovely English backroads and I rode trough som spectacular villages and had a great time on the road and all of a sudden I find myself being very close to F2 MotorCycles… In fact I shot past the place and then managed to turn my rig around in a neighbouring lumberyard and then i rolled back a short distance and there it was….
First thing I saw was a man who was an ancestor to the folks that made Hadrianus build the wall…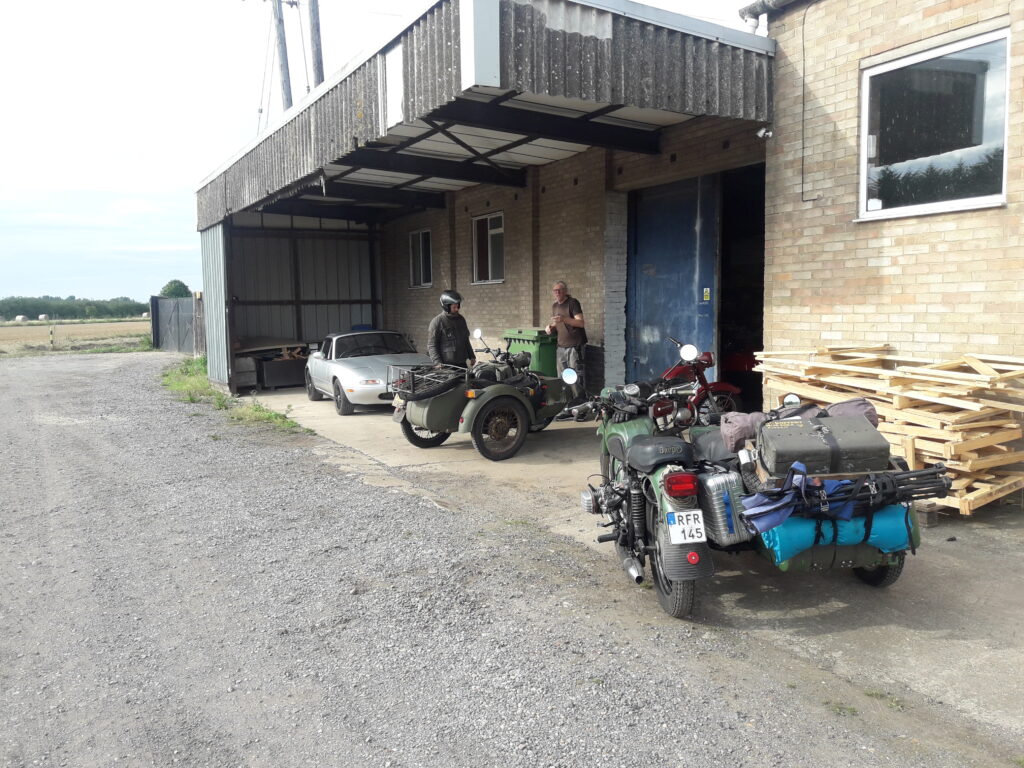 On the picture above we see Charlie McIntyre and David Angel.. David runs F2 MotorCycles and Charlie rides a Ural.. Charlie and I had a talk when we waited for David to attend to his customers … The phone was ringing off the hook and I must say thats a good thing… A company like F2 deserves all its customers and as a Dnepr rider I´m glad that we got men like David who keep the parts that I need in stock…
Me and my new friend Charlie come to the conclusion that we both needed to visit Halfords.. This because F2 was out of the type of oil that both me and Charlie wanted for our bikes.. But I did got some gaskets and clutchwire.. And thats something you don´t find at Halfords..
After getting what we wanted Charlie told me that he had found a nearby Pub that also had a campsite… Great news.. So I gladly followed Charlie to the Rose And Crown.. and Yes, they had room for two moore campers..
By this time me and Charlie had come to the conclusion that we where kindred souls who shared the same passion for old bikes.. and we both where more than a little surprised when we had a look at each others numberplates…..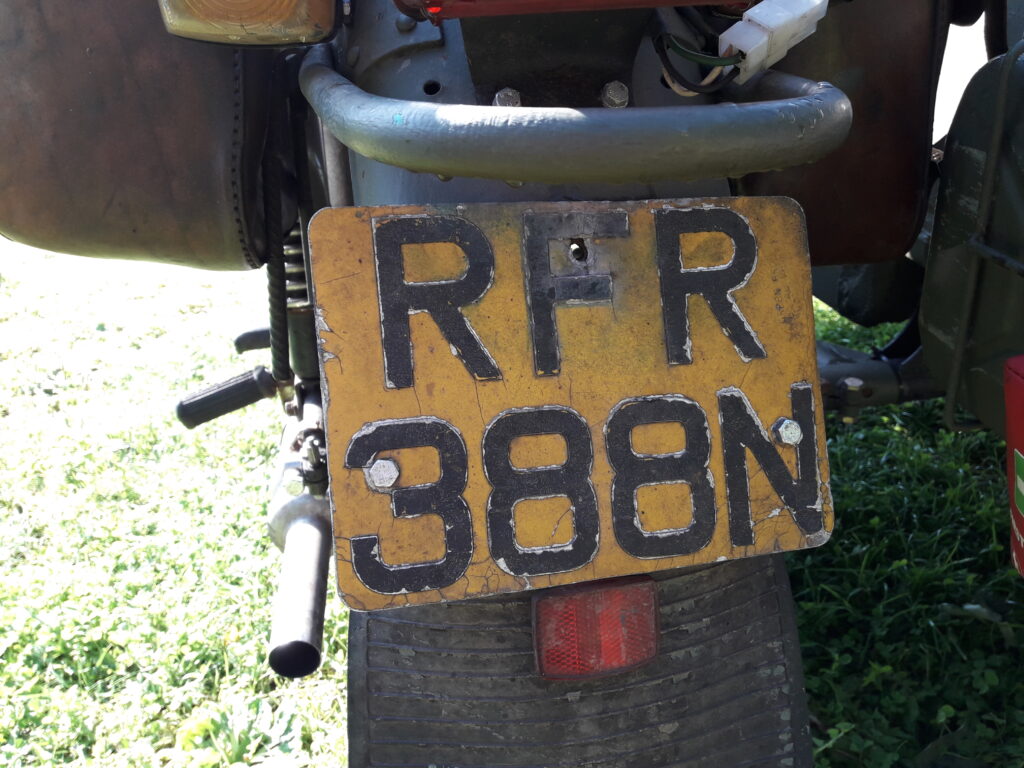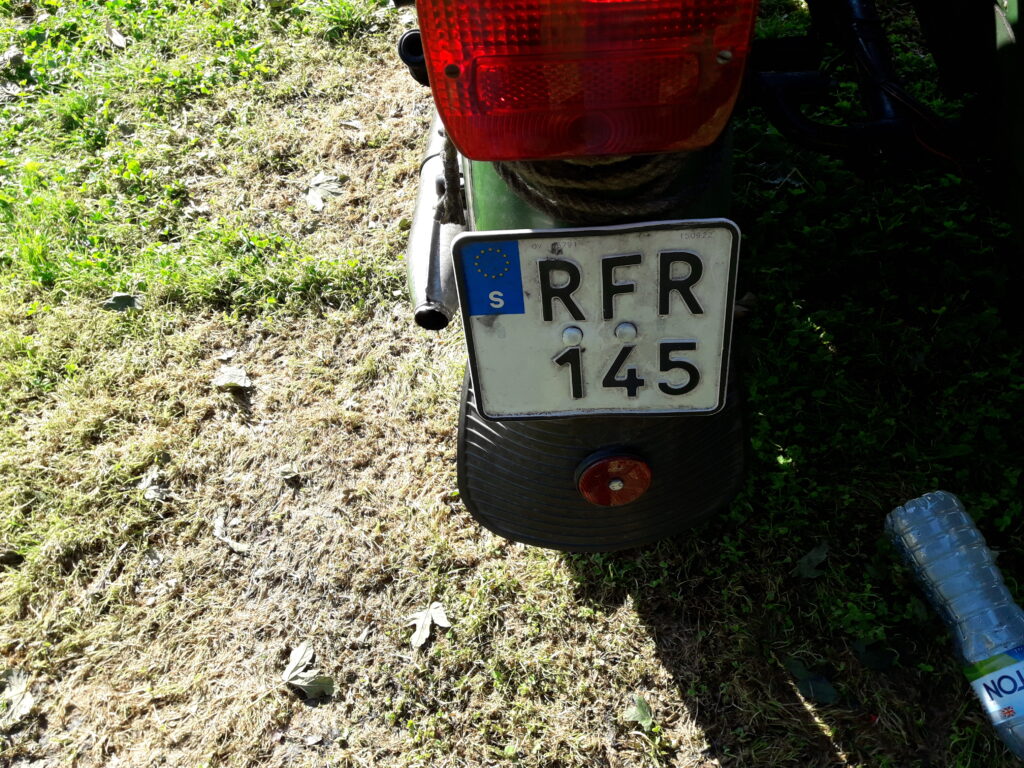 What are the odds for this??? His bike from Scotland and mine from Sweden…!!
So we sat up our tents and made ourselfs comfortable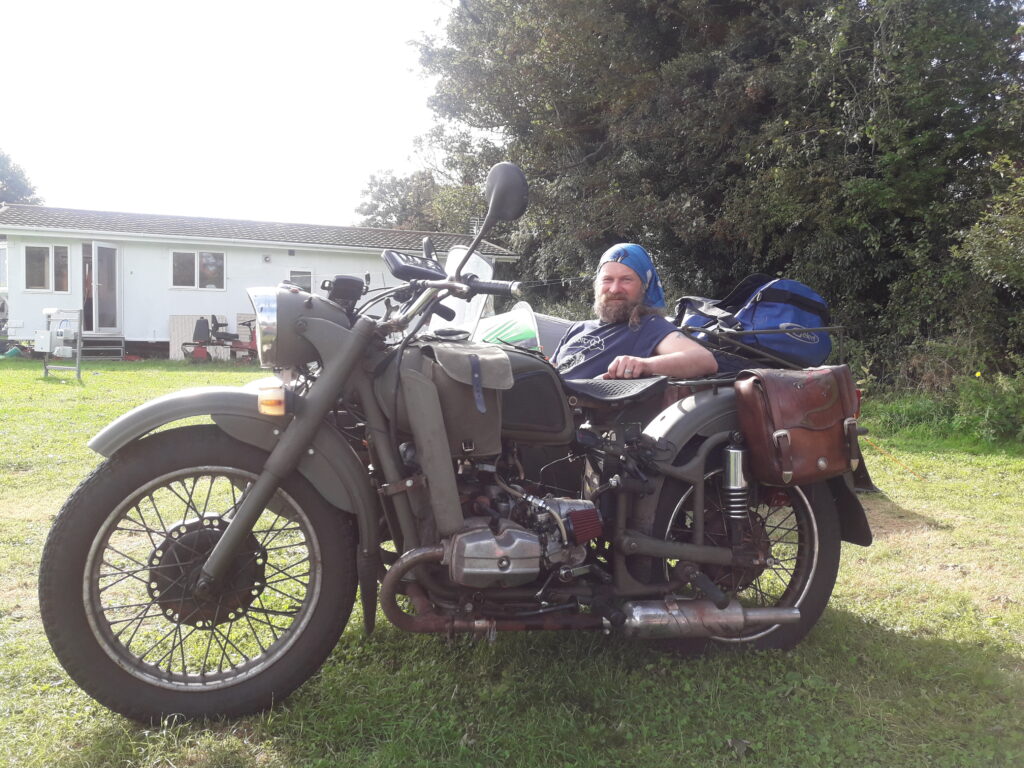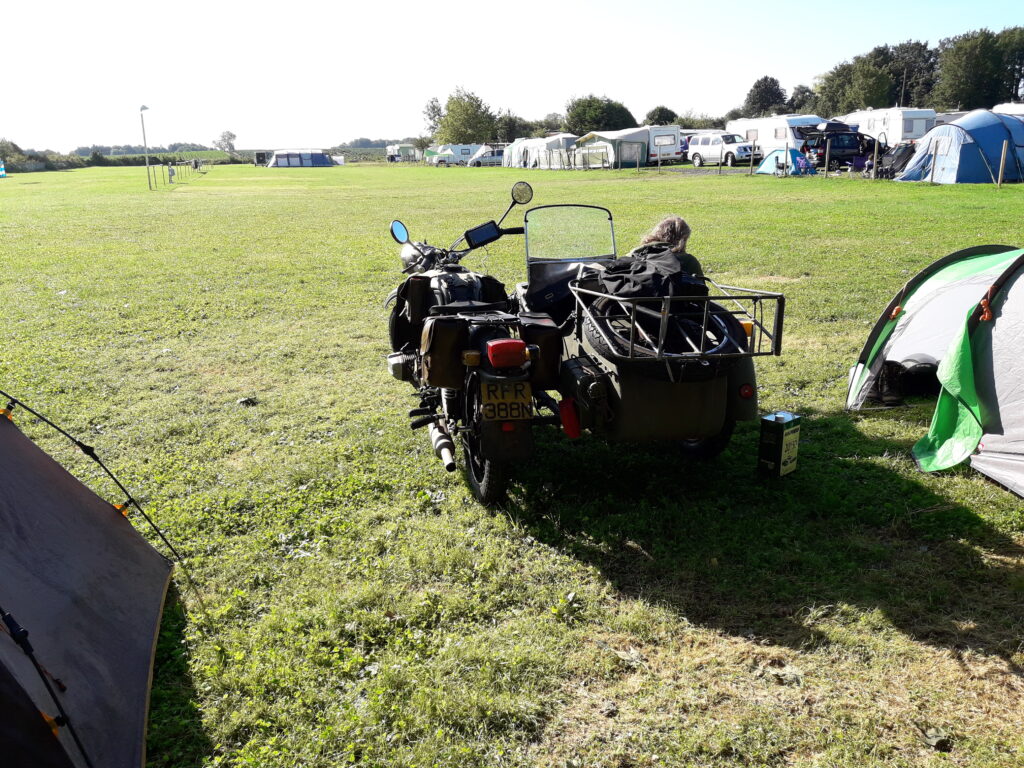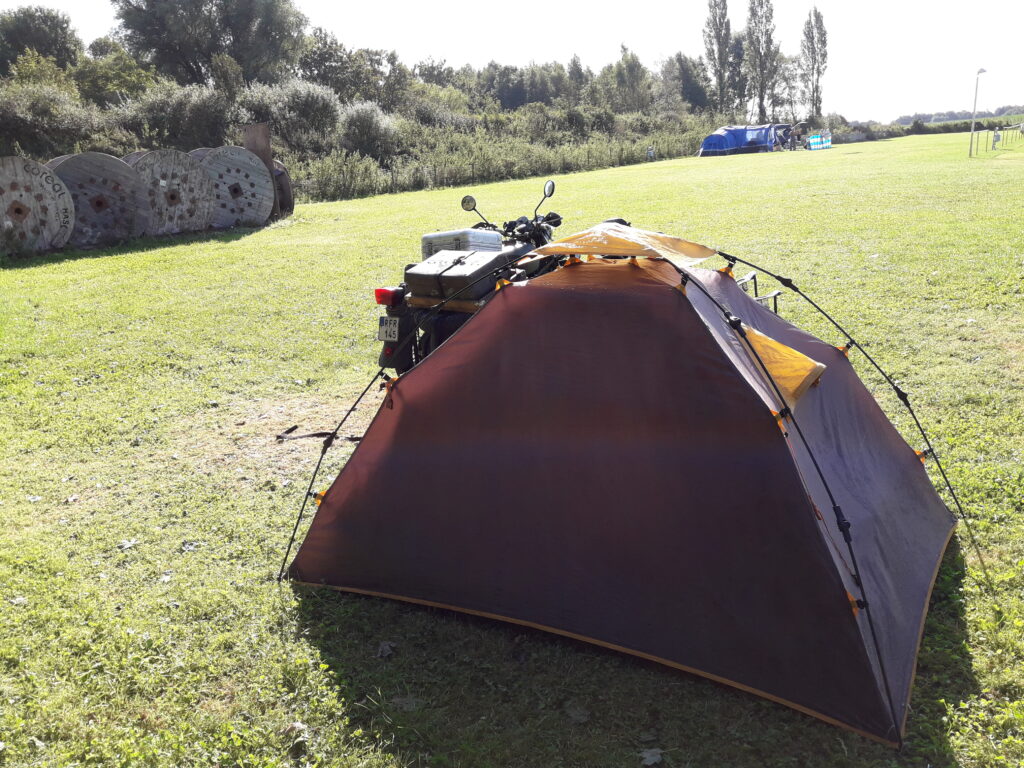 Thursday morning I slept late and when I got out of my tent I had come to the conclusion that my planned trip to London and the Ace Cafe wasnt a must anymore… Heavy traffic and me and Vlad on English roads doesnt mate very well so when Charlie said that he planned to stay another night I was quite happy doing the same….
Friday morning I got out of bed in a fairly normal time and then it was time for breakfast… and indeed this was a breakfast to remember….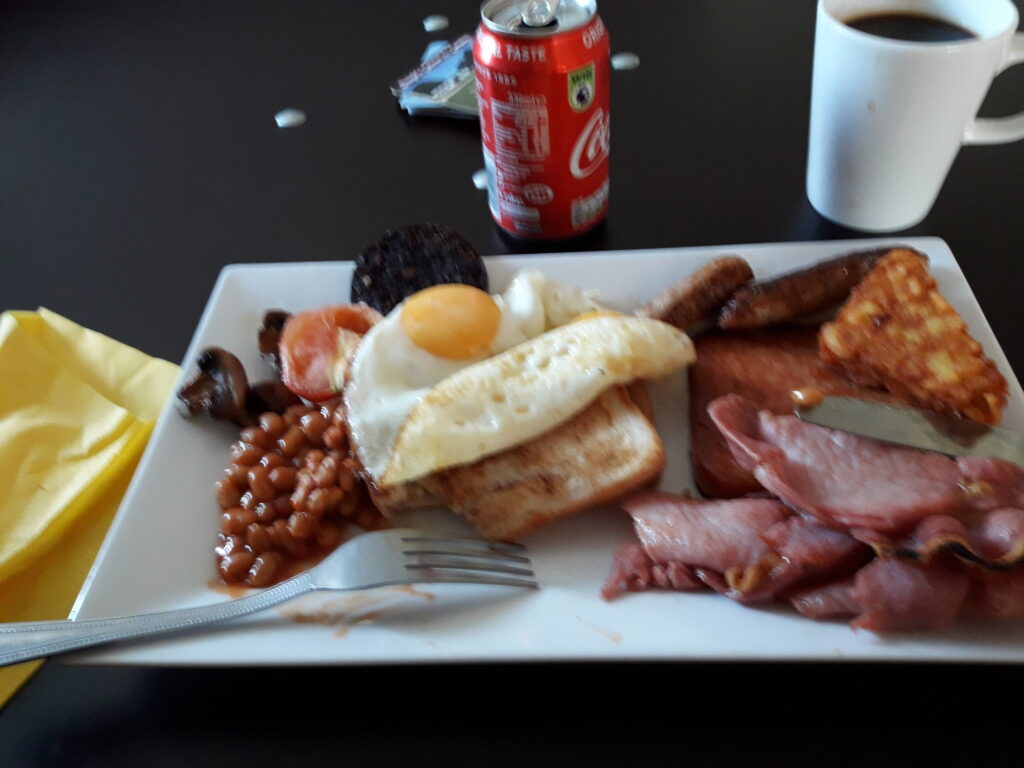 After this meal I wasnt teally sure about my plans… I was thinking about riding back to Harwich and maybe get on a earlier ferry to Holland… I was booked on monday morning but was thinking of maybe do some tourist stuff in Holland…
But… as soon I was back at my bike and tent I met a smiling Charlie… " Guess What.. The CossackOwnersClub… Their AGM starts today in Rutland, Its an hour and a half from here… You want to come along???"
Hmm??? Let me see??? Holland..?? Well.. Holland will still be there for a while but a Cossack Owners Rally that is only once a year?? So it was time to pack our gear and off we went….
More will follow…
Stay tuned and fair winds…. Stefan