Well the answer might be… Your dog/ horse comes back to life… Your Pickup truck mends itself… and your ex girlfriend/wife comes back to you..( or vanish forever??? )
So why do I start with those lines in here?? Well… as some om you now have noticed I´m trying to write in English… The reason for that is that I´m on trip with my trusty old Dnepr… ( thats a negotiation in terms.. )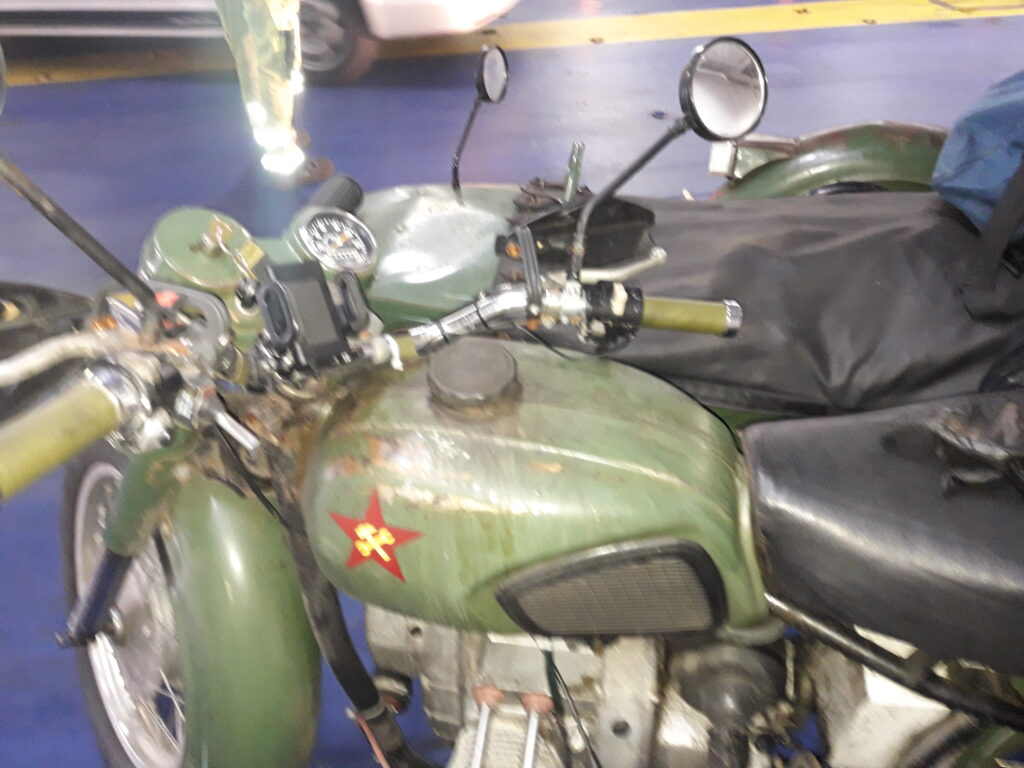 Well this journey started … I left my HQ and rode my old Dnepr to the Stena Line terminal in Gothenburg … And as i parked my bike cause a was a bit early I met som very nice peopler on a Honda Pan European… From Wermland and Karlstad.. And off course they both were supporters of the best Hockey Tem in the world… Färjestad….. ( Hard work/Great Heart)
A great start… Drove on board.. strapped Vlad (thats the name of the bike) down… Then I spottet another sidecar.. Couldnt determine what it really was.. I was thinking MotuGuzzi.. Maybe BMW.. but after that I have walked around it about 8 times… Still confused… all I could say that it was a 4 cylinder engine and that it might be a V4…
Well… later I actually met the owner… the owner of a bike thats is so rare that you probably will see a Harley Davidson win the Isle Of Man TT before you see the like of this bike again…
It was a four cylinder engine… but not a V one.. it was a boxer… And thats about all that I will tell you right now… Got half a promise from the owner that we should meet up and then I could take som pictures and write an article about this amazing bike…
Well after that I found my cabin… I only got lost once trying to find it… Thats a good start .. aint it? Well… To celebrate that my trip had startded out in a very nice way I found a bar and ordered a beer.. The beer was a bit cold but when you let it sit for a while it becomes moore likeable…( for my taste..)
Sitting there thinking about my journet this guy in a fairly nice suit a and a Stena Line Tie walks pass ,, he is pulling a trolley fully laden with sparkling wine… vodka.. whiskey.. and a few other bottles.. Well it was a raffle… I found 6 euros in my kevlarjeans and handed them over to the gentleman…
The result… One large bottle of the bubbly stuff and a fancy bottle of Koskenkorva…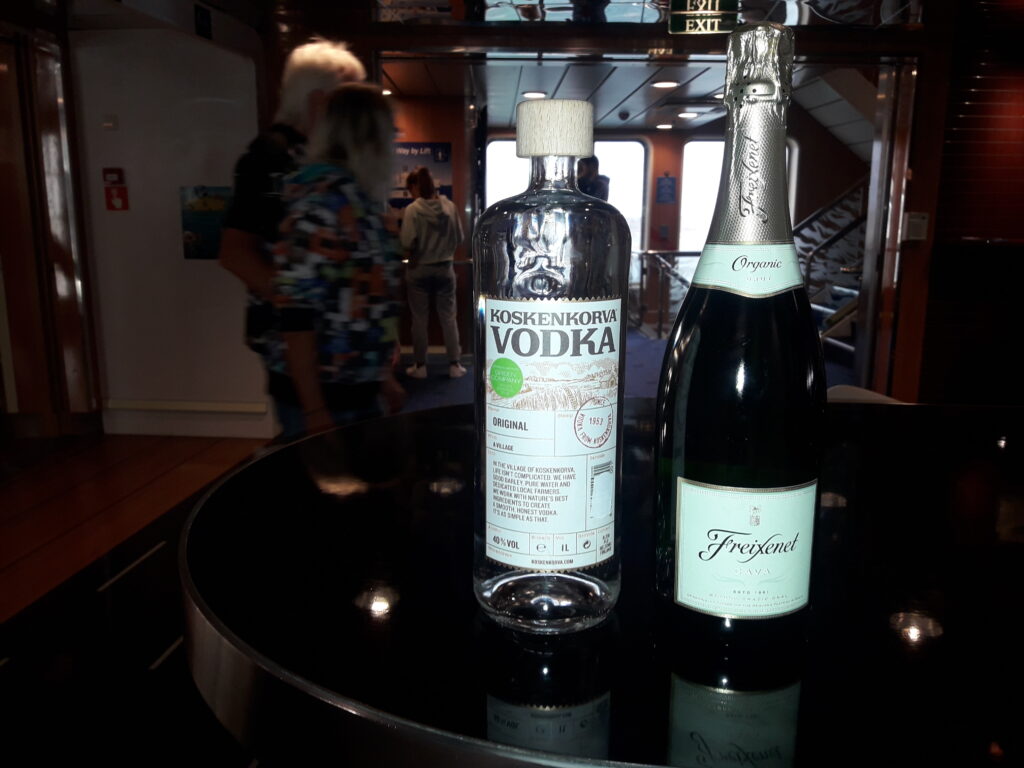 Well… None of the bottles are something that I want on my menue.. but … I´m on my way to meeting with the finest bikers that roam the roads in Europe… So I do believe that someone will help me to empty them ,,,,
Well.. after a pleasant night sleeping in my cabin we arrived in Kiel… and the the usual entertaiment started… Its called… Try to get to cardeck… after watching people pusing buttons to make the lift come to your floor and the go to the car deck where your car or bike or bus or.. well… its fun… If you pay attention you can actually learn how to curse in about eigth different languages…
Finally… The lift took me to the car deck … found Vlad… waited until the crew gave the all clear signal to start my engine… what a surprice for the cars parked behing me… My bike has to be started by me kicking a lever… Holy shit.. the delay from that moment you see my taillights untill the engine actually is upp and running…. thats a trauma for those who are sitting in a Volvo,, Mercedes and so on…
Those 12 seconds…. Well If you have read the Hitchikers Guide to the Galaxy there is a restarount mentioned there that describes what they are seeing…
Well.. after I kickstarded the old 650 I left the ferry… Drove to Ural Hamburg in Trappenkamp… Thats a store that sells all the parts that yopu could ever ask for if you ride or drive a vehicle that origins from the Soviet Union…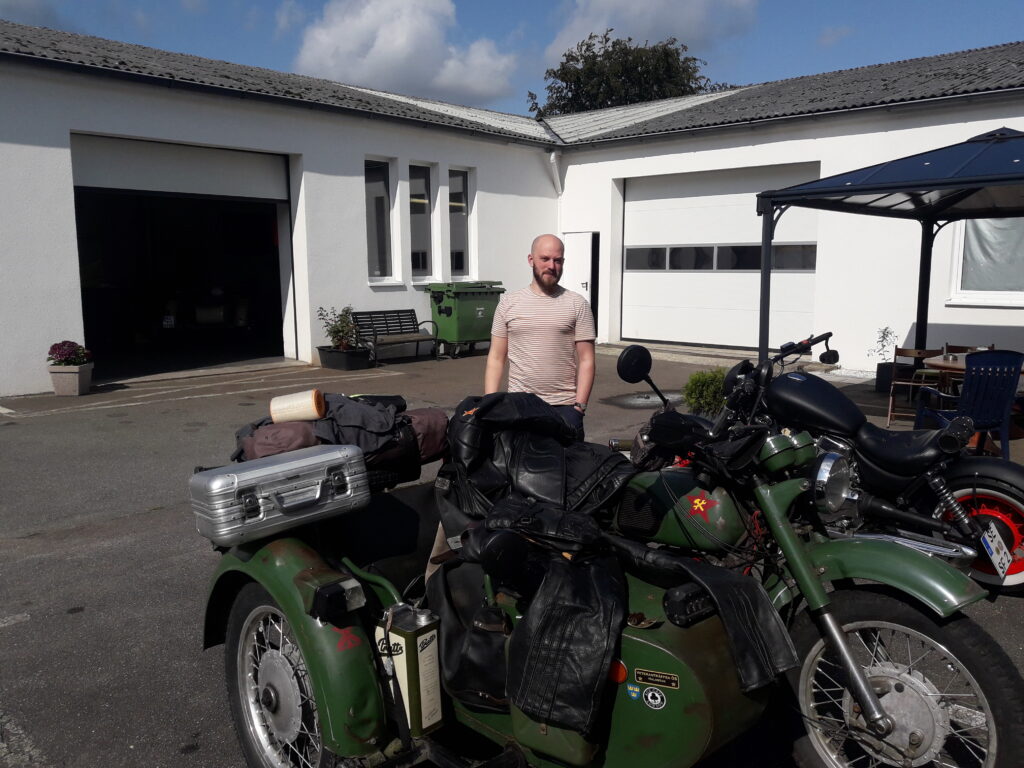 The man in the picture is Michael… He is the on who speaks English and the man who makes sure that I get the spareparts that I want when i order them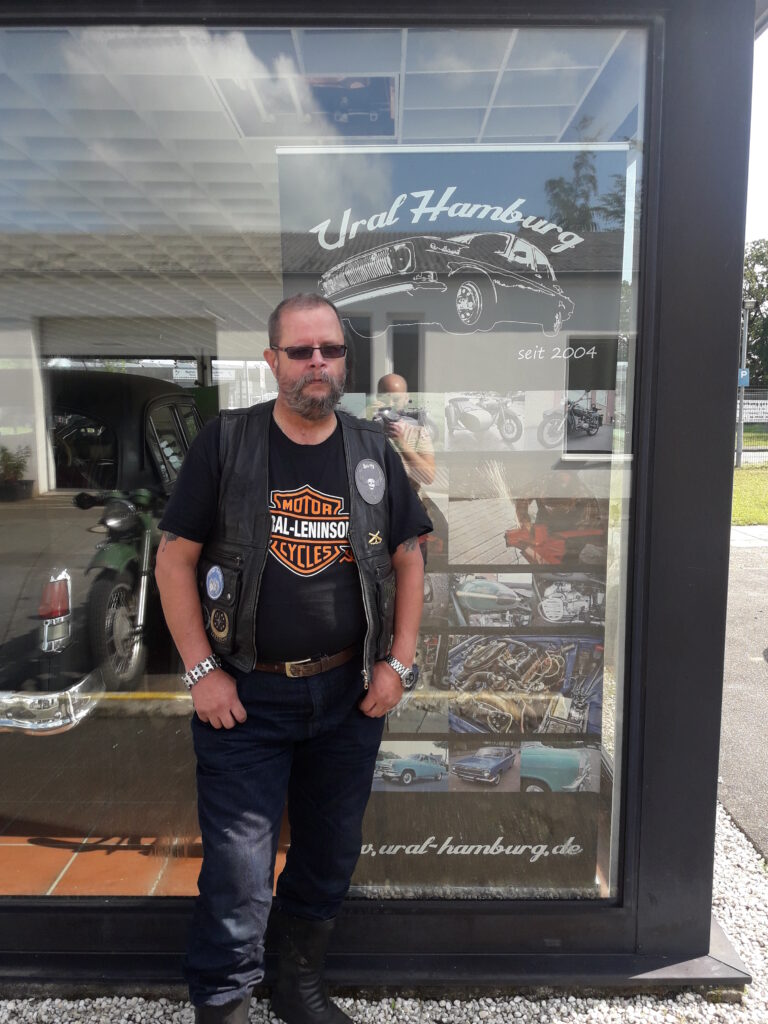 Michael was kind tp take a picture of me … Well… now I can prove that I actually was there…?
Then back on Vlad… Heading for Hoek Van Holland….
Well now its getting late… got get myself into bed…
There is moore.. but I will tell you this later on….
Fair winds Stefan….