As you all already might have guessed… I followed my friend Charlie to the CossackOwnersClub.. and we went to attend their AGM… And why should I break my habits… I was the first one to set up my tent and me and Charlie was the first bikes to arrive att the CossackOwners AGM…
Well almost… At the campsite there was a tent,, and a bike… to our astonishment it was a Harley parked next to the first tent in the site of the rally???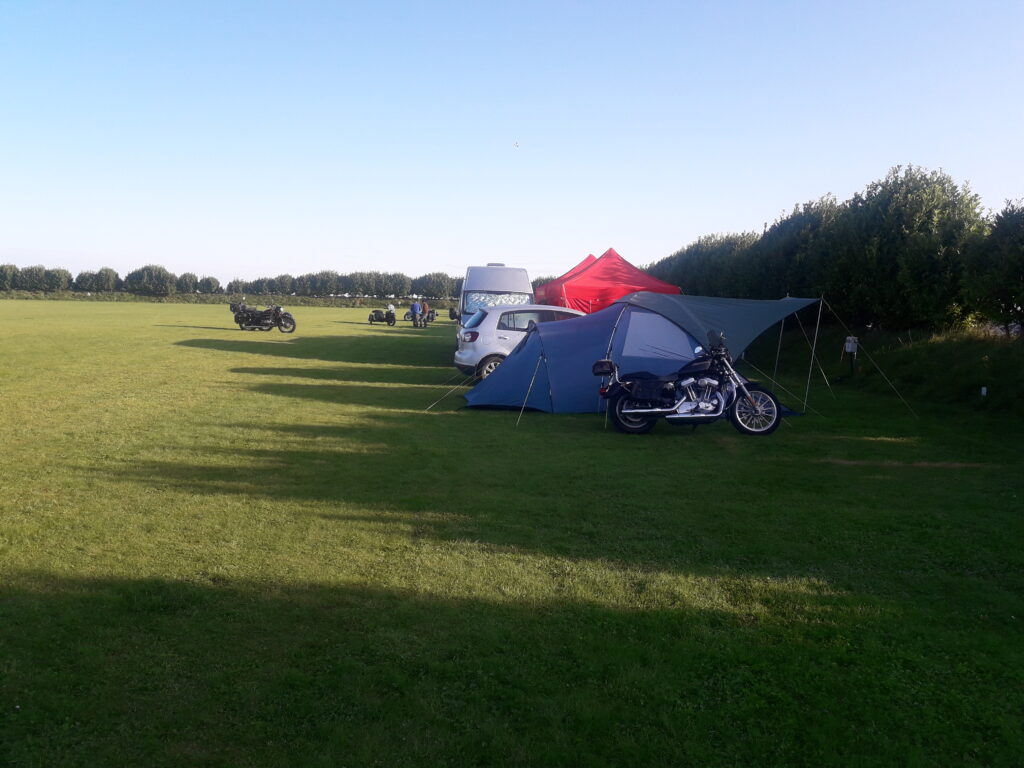 Mind… this picture is taken later… but the Harley and the tent behind was there when me an Charlie went round the corner…. We had a brief conversation… Do we really want to set up our tents next to a Harley???? Well, as I remembered I said I can set up my tent next to HD… ( this since I dont believe that they are contagious..?? )
Later we learned that the Sportster belonged to a very nice man who we had a lot of things to be grateful to… He is one of the brave souls who keeps the Cossack Owners Club up and running…
And now to the part of my story that I so wish that had more pictures of… Like the man who parked between me and the Harley seen above.. But you see.. Alan… He is a man that in many ways make you believe,, As for me I all of a sudden believed that it was more important to talk to my next brother, having a good time and enjoying myself… Rather than taking pictures…
Well back to Alan… A biker that rides a Ural Classic,, with a sidecar.. not a stock one ,, but a more modern one with i smaller tire on the car.. But still.. He rides a Ural sidecaroutfit… A biker amongst bikers… Long hair..scruffy beard.. waxed cottons.. just a plain old school biker… ?? Well, his collar was a bit different… A man of the Clergy… And a bloody nice biker.. !!!
Then sun went down.. All my new friends gathered around the red tent… a small fire was lit.. (Doc.. if you reading this… Yes its possible to have a small bonfire..) And we sat down and had a few beers and a good talk… But all a sudden a small plastic bottle emerges.. I saw a few taking a sip.. faces looking a bit surprised … Since your writer is a good listener… I had picked up a few words earlier..
When it was my turn I had swig.. and yes,, It was Slivo.. and good Slivo.. So I said "Vhala Draga,,, Dobro Sliwowica..".. And then there was a few raised eyebrows… Cant really blame them.. How should they know that I have spent a couple of years at the Balkans during the war…??
The Lady who provided the bottle have lived in England for many years but she was born in Slovenia.. So even if my accent was off and my words not that many she still could perfectly understand what I was saying…
So before I finish this post.. Let me get back to Kharma… Well as far I am concerned.. Kharma has been around the whole trip…
More to thell…
Fair Winds
Stefan