And even i missed the trip that all of the Cossacks did on Saturday I had a great day, The reason that I stayed at the camp was that I had I minor oil leak that I wanted to have a look at and It was also time to replace my clutch cable..
Replacing the cable was a straight forward job but the oil leak was i bit harder to get around.. Peter from the Cossacks gave some good advise and explained the lubrication system of the Dnepr engine and we both come to the conclusion that the oil leak could wait until I was back home in Sweden..
This since it probably was a leakage from the pushrodtubes and that was according to Peter something that I should wait to take apart until I was safely home again.. And I can assure you that Peter did his best to teach me about the secrets of my engine.. And I told him honestly.. I am still learning..
I cant say that I am a good mechanic, but I have learned a lot during the time that I have owned my Dnepr and I´m a little proud to say that I have been able to improvise, adapt and overcome the mechanicals issues that happens when you are stubborn enough to ride fairly long distances on a bike built in the former Soviet Union..
And talking about long distance… On Sunday the Cossacks summoned me to a small gathering at the campsite… And.. I am so proud to tell you that I was handed a prize for the longest distance…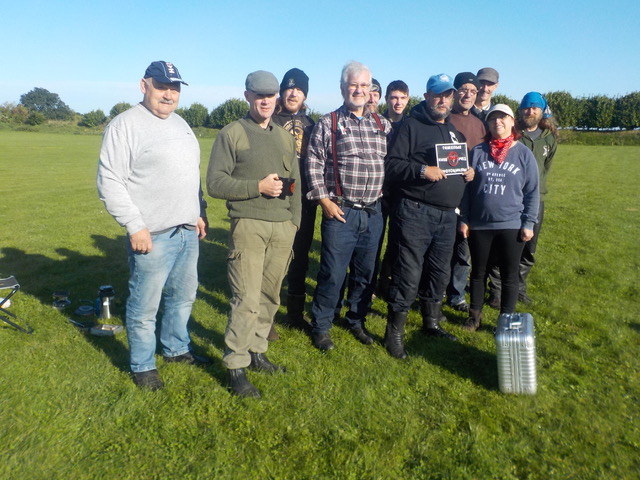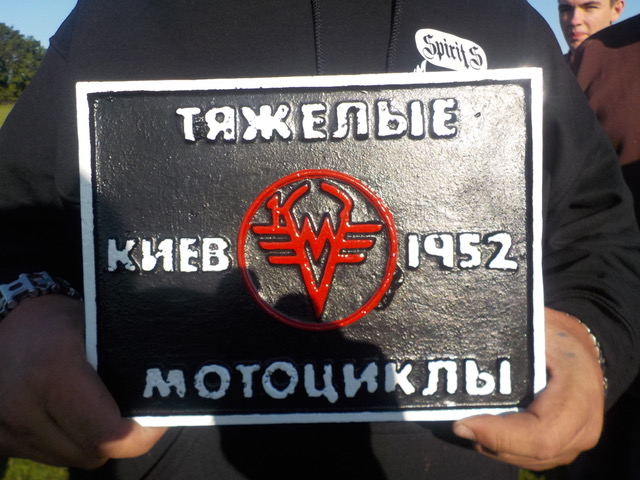 This marvelous prize is casted by a man from the Cossack Owners Club and I cant thank you all enough.. I am so proud that I am lost for words…. Once again.. Thanks from a proud Swede…
And its a bit special that this prize was for this years longest distance.. After all it went to a Dnepr rider…. As you can see its the KMZ logotype in red… The top and bottom words says "Heavy Motorcycles" and the the rest says Kiev 1952… Thats the year the production of Dneprs started… Well… to be honest I am not sure which year the name Dnepr first occured.. But i do belive its a bit later then 1952… In that year they started to produce the 750 flathead for the army.. Thats the bike that now is known as the K750M…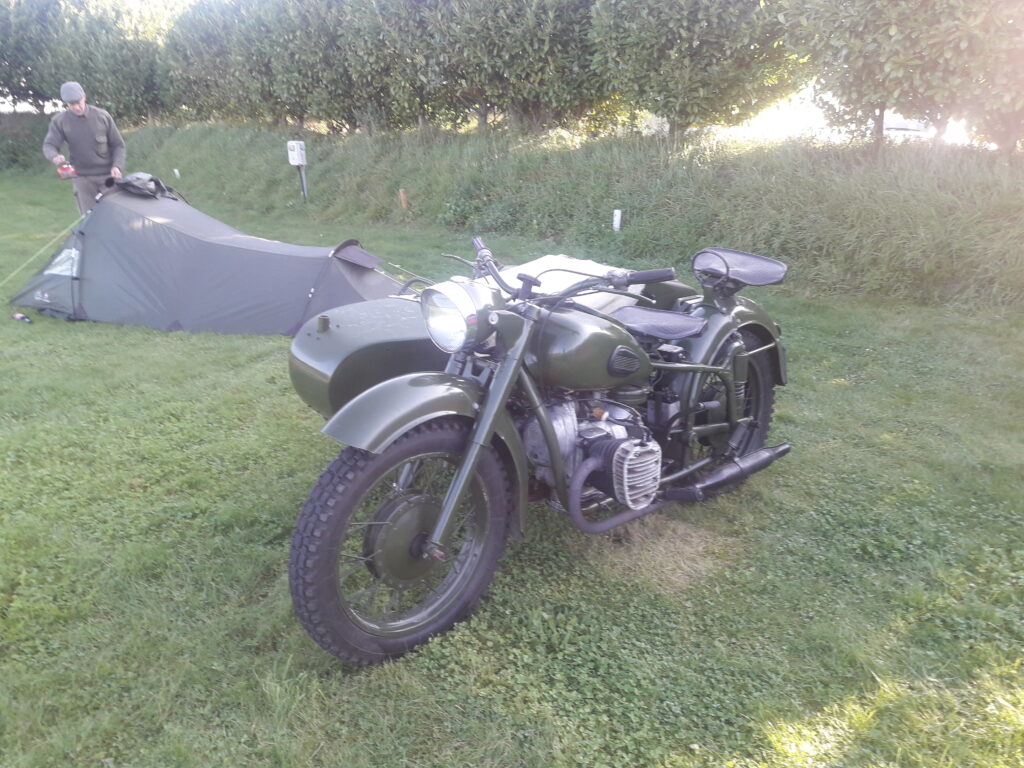 And here is a very fine example of just that motorcycle.. In excellent condition and I must say that I do hope that I in my lifetime will get the opportunity to own a flathead….. To me this is the ultimate bike from the Soviet era…
And even i both me and Charlie rides bikes that are a mish mash of parts and both are rides are a bit of "ratbike" style.. No one at this rally rises an eyebrow.. Its just… You ride.. you are here … And you are just very welcome… At a cossacks rally every kind of rider and every kind of old soviet bike is more than welcome… And yes.. The bikes doesnt even have to be built in the Soviet era.. Newer russian made Urals are welcome..
And if you got another brand that has it origin behind the Iron Curtain,, Please bring them as well.. But the Izh and others are a bit rare.. but they are out there and most likely anyone that visits the next rally in 2020 will have a chance to see bikes that you might only heard about…
Next years rally.. Thats the big one… I do hope that I can go there.. So hopefully,, If God will and Tsar so allows .. I might be there…
So for now… Fair Winds…
(there will be more to read soon)
Stefan